Getting Started with Magzinr
Welcome to Magzinr - a new tool to help you create and curate magazine pages, RSS feeds and widgets from your best links through tags and tweets!
---
Why use Magzinr?
I designed Magzinr because none of the various social bookmarking / web curation tools did exactly what I wanted - which was to easily tag pages, share them on Twitter, organise my links in attractive pages, and embed them into my website.
That's why I wrote Magzinr, and that's why I now use it as my own personal web curation tool!
You can check out my own account here - russeltarr
---
Tagging and Tweeting a link
You can tag and tweet a link in one of two ways.
a. Click "add URL" in the top bar of your Magzinr homepage.
b. Drag this bookmarklet to your toolbar so you can tag directly from any webpage:
A popup window will ask you how and where you want to tag the link. Tags will be 'autosuggested' based on your previous tags.
You can include such things as title, description, a 'star rating', an image, and as many tags as you like.
You can also choose to share the link as a tweet on your Twitter feed.
---
Viewing all your links from your homepage
Your main homepage can be found at www.magzinr.com/user/.
You can reach your homepage directly by clicking the bookmarklet and following the link to your account.
This page displays your links in a folder tree at the left, and in a 'timeline' view on the right. Here's a sample from my account.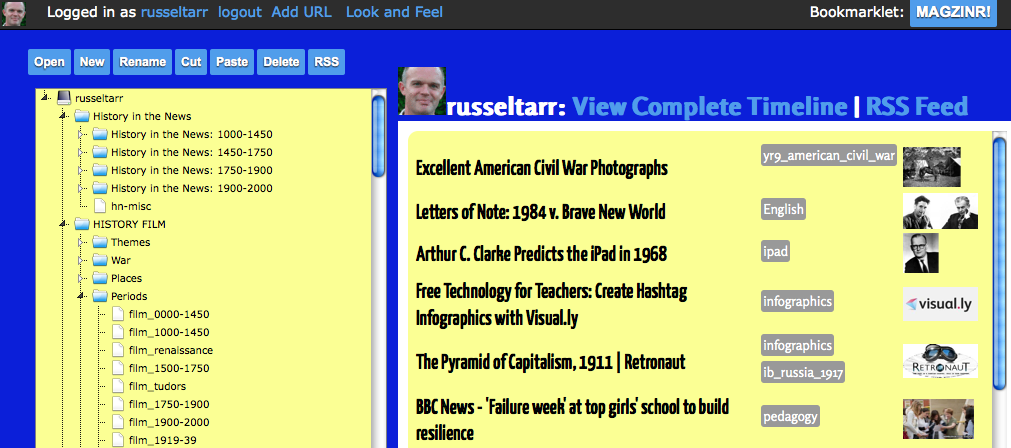 ---
Organising your folder tree to match your needs
By default, the folder tree on your homepage lists all the tags you have created in one long list.
However, you can organise these into folders and subfolders if you wish.
To do this, click on your 'drive' icon in the folder tree (or on an existing folder) and click the 'new' button.
You can cut and paste tags into folders, 'drag and drop' and rename tags just like you would on your home computer system.
---
Curating your tag pages
Each tag that you use generates its own unique magazine page. From your homepage, click any tag from the folder tree, or any link from the timeline, to open its page.
You can drag and drop items around the page so that more important links can be shown at the top of the page to visitors.
You can also edit items directly from the page.
---
Customising the look and feel of your tag pages
You can click the 'look and feel' link from your account to make your pages match your existing blog, website or wiki.
You can change the colour scheme and the font style to suit your preferences!
---
RSS Feeds and Widgets
RSS feeds and widgets are generated for every tag, every folder and every subfolder that you create. You can access these directly from your homepage (right-click over any tagname or folder, or click the 'RSS / Widget' buttons for a selected tag), or from any of the tag pages.
Widgets easily allow you to embed your Magzinr pages directly into your existing blog, website or wiki with the minimum of fuss. As soon as you tag a new link, it will appear on your Magzinr tag page, and therefore your website will automatically be updated at the same time!
RSS feeds allow people to receive alerts whenever you update your tags or particular tags or particular folders. Many blogs and websites use RSS feeds so that their visitors can receive news of updates without having to manually visit the website. The most popular RSS reader, and the one I recommend using, is Google Reader.
---
Using Magzinr on an IPad

Use an Ipad? Save Magzinr.com as a bookmark, then edit the bookmark and replace the URL with the code contained in this box.
You can then directly tag any page from your Safari browser.
---
Further Questions / Suggestions? Contact Me!
You can contact me using the contact form.